Following his father's death, Adam Delaney has acquired his father's title as Earl of Delaney and married Anne, who has given birth to their twin sons, Lance and Tristan. Now Adam and Anne have taken a much-needed vacation in France, leaving their sons at Delaney Castle with Adam's mother and grandmother and Anne's father.
But what begins as a pleasant and long overdue honeymoon soon becomes another strange mythical adventure when Anne reunites with her old friend, Morgan, while the couple is visiting Lusignan, home to the legendary fairy Melusine. Before Anne knows it, she finds herself listening to stories within stories about the fairy Melusine and the magical rings she left to her children, magical rings that are tied to Adam and Anne's future in ways they can scarcely imagine.
Melusine's Gift is the second of five books in Tyler R. Tichelaar's Children of Arthur series following Arthur's Legacy. Arthurian characters Morgan le Fay and Merlin return in the time of Charlemagne and new legendary figures are introduced in this complex and creative historical fantasy novel.
Paperback: ISBN-13: 978-0-9791790-8-2
6"x9" / 335 pages
Media Page
Melusine' Gift eBook
Kindle Edition $6.99
Nook Book $6.99
Kobo $6.99
Google Play $6.99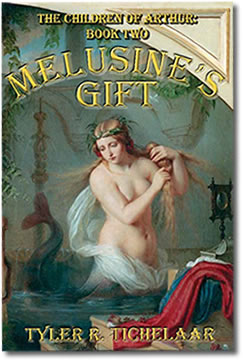 $19.95
Please Note: We do not ship books outside the United States.
Please visit your local online retailer.
Special Offer
Order Arthur's Legacy and Melusine's Gift together for $32.00 and save 20%
"Readers unfamiliar with Melusine's place in history will be drawn into her world, while the captivating web of multi-layered stories within stories combine and complement to obliterate the preconceived notions of those who consider themselves experts on her legend."
— Jenifer Brady, author of the Abby's Camp Days series