Eighteen years have passed since Adam and Anne Delaney's twin sons were kidnapped, ostensibly by one who wished them well. Now, after a string of useless clues and years of doubting their own sanity, the couple arrive in Istanbul where they have been told they will find the answers they seek...and hopefully the infant boys who—if even alive—would now be grown men and strangers to them.
Lilith's Love, the fourth volume in Tyler R. Tichelaar's revolutionary historical fantasy series The Children of Arthur, brings together diverse legends to create a new human history that both surprises and reveals how powerful the imagination can be. With an impressive cast of historical and legendary characters that includes Merlin, Emperor Constantine XI, the Wandering Jew, Dracula, and Lilith herself, this tale takes readers from the Fall of Constantinople to a New World Order in the twenty-first century, rewriting a past we thought we knew to create a future far more fabulous than we ever dreamed.
Paperback: ISBN-13: 978-0-9962400-2-4
6"x9" / 432 pages
Media Page
Lilith's Love eBook
Kindle $6.99
Nook Book $6.99
Kobo $6.99
Google Play $6.99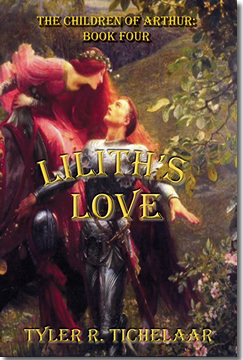 $19.95
Please Note: We do not ship books outside the United States.
Please visit your local online retailer.