About the Author
Tyler R. Tichelaar - Descendant of King Arthur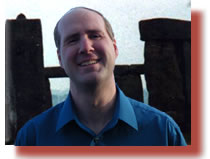 Tyler R. Tichelaar, Ph.D., is an author of Arthurian nonfiction and historical fantasy and an enthusiast for, if not expert on, modern Arthurian fiction. He has been in love with the Arthurian legend since he first read The Boy's King Arthur by Sidney Lanier with N.C. Wyeth's stunning illustrations, and he credits Marion Zimmer Bradley's The Mists of Avalon for making him realize the potential for writing new versions of the legend.
His book King Arthur's Children: A Study in Fiction and Tradition was published by Modern History Press in 2011. It explores various traditions concerning King Arthur's children in Welsh and medieval sources, the possible historical descendants of King Arthur, and more recent creations of descendants for King Arthur in modern fiction.
He began writing King Arthur's Children as his master's thesis and as research so he could write his first King Arthur novel, which eventually became the five-book Children of Arthur series, consisting of Arthur's Legacy (2014), Melusine's Gift (2015), Ogier's Prayer (2016), Lilith's Love (2016), and Arthur's Bosom (2017).
Tyler is a seventh generation resident of Marquette, Michigan, and local history expert, having written several novels and nonfiction books about the area (www.MarquetteFiction.com). He is also an expert in nineteenth century Gothic novels, with a Ph.D. from Western Michigan University in British literature. He is the author of The Gothic Wanderer: From Transgression to Redemption, an exploration of Gothic literature from The Mysteries of Udolpho (1794) to the present (www.GothicWanderer.com). Gothic literature has heavily influenced his treatment of the Arthurian legend in his novels.
Tyler suspects that the debate over King Arthur's historicity will probably never be resolved, but he can trace his own ancestry back to King Edward III and the Plantagenet dynasty of England, as well as to several Welsh and Scottish families that claim descent from King Arthur, as he discusses in King Arthur's Children. Modern research into DNA and mathematical calculations about genealogy suggest that if King Arthur did live and had children, it is likely that almost the entire human race today would be descended from him. Tyler likes to think he inherited a few of those Arthurian genes.
Tyler as King Arthur

(See the family resemblance?)